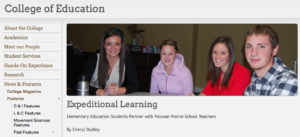 The College of Education has a long reputation of partnering with local schools to enhance learning and provide students the opportunity to engage in hands-on learning experiences. But never before has the partnership been so collaborative and two-way as with Margaret's Vaughn's EDCI 322 class and the Palouse Prairie School.
Palouse Prairie School is a tuition-free public charter school located in Moscow that opened its doors in 2009. Summer Clayton of Atlanta was hired as principal to head the school.
"From the moment we opened our doors, the University was coming to us and asking for partnerships and internships. But Margaret came to us and asked what we needed in relation to instruction, which was a first," said Clayton. "Up to this point, the partnerships seemed to be one-sided and took a lot of our energy. But Margaret has taken the lead in helping meet our needs. Our teachers are getting professional development and a chance to engage with the U of I students. It's a real collaborative process."
On November 7, Vaughn's class, made up of all juniors and seniors, met at the school, prepared to learn about the workshop model of teaching and observe teachers in the classroom. The goal was for students to prepare their own curriculum and return the following week to teach class under the mentorship of Palouse Prairie teachers. Kindergarten teacher Jeneille Branen, a founding teacher at Palouse Prairie School, introduced the U-Idaho students to the teaching method and what was expected of them that day. "We expect you to just observe today, and to be respectful of each student," she said.
Vaughn and her class were eager to observe the expeditionary learning method in the kindergarten and 2nd – 3rd grade classes. Expeditionary learning promotes an environment that empowers children to be part of a community and is project-based. For example, one class is studying the Palouse earthworm and will be creating a book about it. Students not only learn about the earthworm, but also learn how to write content and how to design a book. The curriculum serves an authentic purpose where students become invested in learning all the components of the project.
"We offer kids an intimate environment and create structures that incorporate team building and character development in the classroom," said Clayton. "Kids learn how to create interpersonal relationships and how they fit into and contribute to a community."
Branen, who has a master's degree, appreciates the opportunity to work with the University of Idaho. "I feel like I've grown more at this school than anywhere else," she said. "Margaret is providing professional development to the teachers, and is helping us plan lessons."
The 29 University of Idaho students weren't completely sure what to expect, but were excited to be observing a classroom setting. Molly Palmer, Hawley Conger, Laura Greenwood and Travis Merriman shared their enthusiasm for learning the new model and also what led them to pursue a teaching career.
"I had a really good experience in school," said Merriman. "It made me want to become a teacher."
"But some students want to become teachers for the opposite reason," said Palmer. "Because they had really bad experiences and didn't want any other kids to have to go through the same thing."
Vaughn, who is a new faculty member in the College of Education, understands the value of practicum experience. She's excited to provide her students the opportunity to spend their class time observing and working in a real classroom environment while in turn helping the teachers in areas of need.
"We hope to carry on this collaboration," said Vaughn, who noted that some of the students are also working at Lena Whitmore School in Moscow. "Having been a classroom teacher and now a faculty member, it's been easy for me to see both sides and set up a partnership that's collaborative."