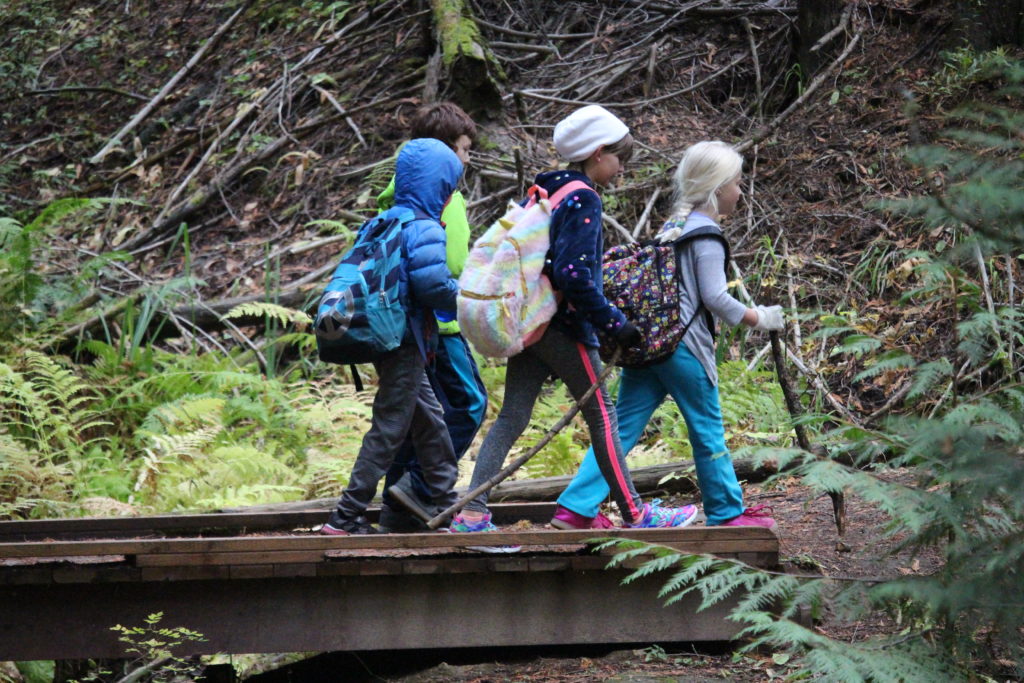 Adventure Embedded in Student Life
Experiences in nature and adventure are highly valued at PPCS. Our core values as a school of expeditionary learning are rooted in the Outward Bound model. Thus, we promote courage, challenge, exploration, and discovery in an outdoor setting. We ensure that these experiences are safe and accessible to all students while encouraging students to challenge themselves, reflect on their experiences, and grow. Our program is scaffolded with increasingly challenging adventures in four different modules.
Our Adventure Modules
Sense of Place
This adventure aims to help students understand and interact with the natural world. We are fortunate to live in an area with easy access to beautiful places. During the Sense of Place adventure, students visit forests and fields, mountains and meadows, and ponds and rivers. They travel through the landscape together, often stopping to reflect or observe. They spend time learning about the local flora and fauna. Our goal is to foster respect and reverence for the natural world and a deep sense of place. We hope that through these experiences, children are inspired to spend more time outdoors and be stewards of nature.
Rock Climbing
The rock climbing adventure is designed to give our students the opportunity to physically challenge themselves. We visit the University of Idaho rock climbing gym where students learn how to climb with a rope (top-roping) or without (bouldering). Rock climbing is difficult, as our students learn. They get the opportunity to test their limits and persevere when things get tough. They also get the opportunity to set goals and support one another. Our hope is that students learn about their physical capabilities and that approaching a physical challenge can sometimes mean applying grit.
Winter Recreation
The winter recreation adventure teaches our students about two different lifetime activities – snowshoeing and skiing. In the primary grades, our students snowshoe through forests and fields on the Palouse. They learn about proper layering for cold weather, and how to keep themselves warm for extended periods of time outside. They also investigate the natural world through various activities like examining winter tree buds or peering through lenses at snowflakes. Starting in fourth grade, students go downhill skiing. They learn about balance and how their bodies adapt to being on skis. As they move up in grades, students get the opportunity to ski every year until they graduate, totaling five ski trips. Over the course of these years, students may decide they want to continue skiing beyond their time at PPCS. We hope that the ski trips are a valuable introduction to a potential lifetime sport.
Cycling
As winter transitions to spring, we encourage students to maintain active outdoor lifestyles. One way we do this is through the cycling adventure. We are fortunate to be situated near the Latah Trail, the paved bike path between Moscow and Troy. The primary and elementary grades embark down this trail on their bikes, taking in views of the Palouse hills coming alive with new life. The middle school grades travel to the Trail of the Coeur d'Alenes where they cycle along Lake Coeur d'Alene.
Students learn about a different set of physical challenges while cycling including pacing themselves, eating plenty of food, and drinking lots of water to sustain themselves. Students also get the opportunity to set goals, challenge themselves, and support one another. Variable spring weather also gives students the opportunity to plan ahead and prepare for the trip. We hope to foster interest in this healthy, outdoor lifetime activity.
Overnight Trips
6th Grade MOSS Trip
In 6th grade, students spend three nights at the McCall Outdoor Science School, a residential environmental education center. The emphasis of this trip is adventure experiences, team-building, and academic content that varies year-to-year. One year, for example, the 6th grade crew studied snow science as a way to build background knowledge for their spring hydrology unit. The crew also spent time snowshoeing in Ponderosa State Park. In a different year, students studied statistics through the scope of forestry by measuring tree diameters in various locations of Ponderosa State Park, then analyzed their data. This crew also rafted a section of the Salmon River.
7th Grade Orcas Trip
The centerpiece of the seventh-grade social studies expedition is the week-long visit to Orcas Island. During this visit students develop a sense of place and perspective by experiencing time on the water with killer whales, hiking, working with local experts, and field-journaling. The culmination of this work shifts a little each year, but always has a strong artistic element to it. Student work has been displayed in local art galleries, has been used as the primary art installation for the Killer Whale Research Symposium as well as the Center for Whale Research Education Center, both located in Friday Harbor, WA. Students have also worked with indigenous artists on the Orcas Island trip to create formline design on cedar plank paddles in a collaborative effort with our fourth grade Crew's work with local canoe builders and indigenous canoe families.
8th Grade Backpacking Trip
In 8th grade, students spend a week backpacking in one of the most beautiful river canyons in our country – Hell's Canyon. Situated along the Idaho-Oregon border, Hell's Canyon is home to the Snake River and is the deepest gorge in North America. The opportunity to spend a week here is truly an amazing culminating middle school experience for our students.
The trip starts at Pittsburg Landing where students learn about meal portioning, strategically packing their bags, water filtration, cooking with backpacking stoves, and safety protocols. They make the strenuous six mile hike along the winding Snake River Trail, up and down in elevation before arriving at Kirkwood Ranch, a nationally recognized historic ranch. Students and leaders camp here for two days. They spend time doing service at the ranch, day-hiking to beautiful vistas, and reflecting with each other on their PPCS experience. The stars in this remote location are a sight to behold!