Buy a Brick. Build a School.
---
Welcome to our new school!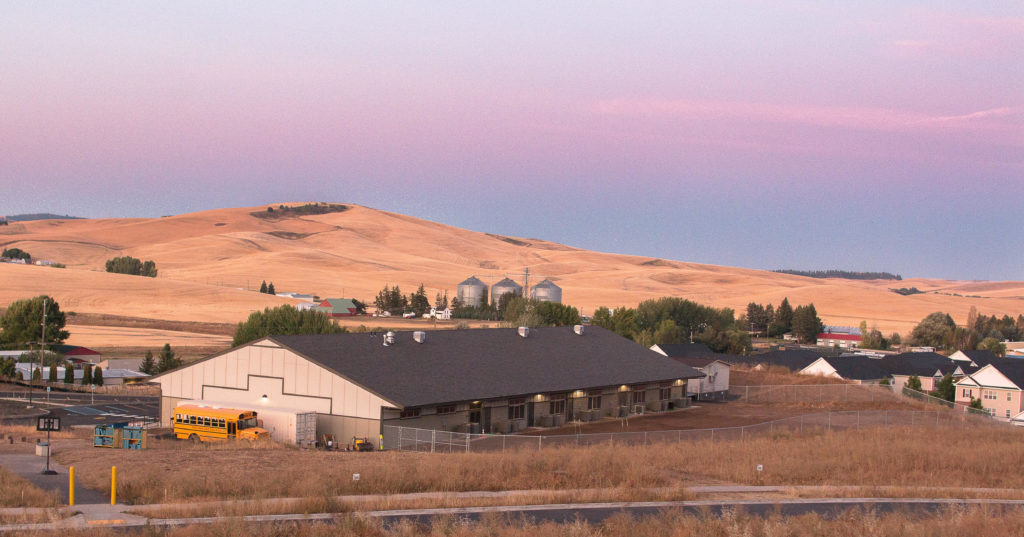 Palouse Prairie Charter School opened the 2019-2020 school year in our new, custom-built school building, situated on 3.25 acres of land, just off Palouse River Drive in Moscow.  After operating for ten years from a converted furniture building, students and teachers are enjoying natural light, energy-efficient classrooms, beautiful views of the Palouse, and room to play outside. With more space, Palouse Prairie can now grow to our full enrollment size of 216 students.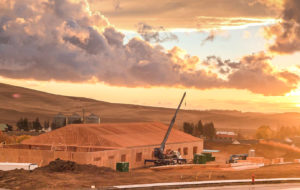 Our school now has a spacious multi-purpose room with a top notch climbing wall, plenty of outdoor space for gardens and playgrounds, 21st century learning equipment, including Smart Boards in each room, and state-of-the-art safety features.
History of our school
Palouse Prairie Charter School (PPCS) opened in 2009 with 68 students in grades Kindergarten – 5th.  In makeshift classrooms in a converted furniture store, we built a vibrant and nurturing educational community, a place where students think critically, inquire for themselves, and push courageously to try new things. Since those early days, we have added a thriving middle school (grades 6-8) and built a unique Adventure Program that gives every student deep experiences in the outdoors. Even with so little in material resources, PPCS has consistently outperformed our neighboring school district and has become one of the
highest performing charter schools in Idaho.
---
Campus Upgrades
Our highest immediate priority is a unique nature-based playground and other recreational structures such as basketball and four-square courts. We will be conducting native plantings and building gardens in the spring. ​
You can contribute to our new school!
Leave a Legacy of Learning:
Leave your mark on our new school building and grounds with naming opportunities and engraved brick pavers. Honor your family, current students or alumni, or business by naming a building, classroom, or outdoor space at our new school. Sponsored spaces will feature a naming plaque* to celebrate your commitment to a thriving learning environment for the children of the Palouse.
Naming Opportunities
Multipurpose Building ($50,000)
Science Lab ($15,000) reserved
Classrooms (9 @ $10,000 ea) 1 reserved
Playground Structure ($5,000)
School Garden ($2,500) reserved
Park Benches ( 4 benches @ $1,000 ea) reserved
Shade Trees (10 trees @ $750 ea)
Bike Racks ($750) reserved
*Exact design and location of naming plaques to be determined.
If you would like to purchase a naming opportunity, please contact Sara Beggs, Executive Director at (208) 882-3684 or email
sbeggs@palouseprairieschool.org
---
Buy a Brick. Build a School.
You can be a part of our learning landscape with brick pavers engraved with names or inspirational messages.  The pavers will be part of an added feature outside and lay the foundation for lifelong learning on the Palouse.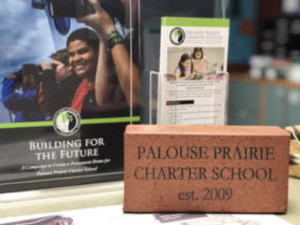 Each brick paver will be etched with your own personalized text and provide a permanent record of your generous gift!
$250  4×8 Brick with up to 3 lines of text (max of 20 characters per line) $500  8×8 Brick with up to 6 lines of text (max of 20 characters per line)
Brick Order Form
---
For more information:
PPCS Case Statement
Building for the Future Pledge Letter
Donor Form