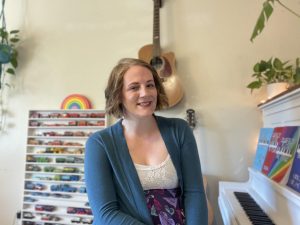 Jodi Fisher
I am a creative mix of mother, teacher, nature explorer, photographer, barista, author, and artist.
I am excited to offer music class to the Palouse Prairie community.
My classes are colorful, fun, bright, engaging, interactive, and educational.
After graduating from the University of Idaho with dual majors in music education and Spanish, I have spent the last ten years also teaching English as a second language, private music lessons (piano, guitar, & singing) and Spanish.
I also love being active in our community by performing concerts at our local coffee shops, teaching a baby music class, and writing music picture books and coloring book songbooks with my business Colorfully Playing the Piano.
When I'm not coming up with the next creative music idea or project I have in mind, you can catch me drinking coffee and playing with my kiddo or taking photos of the beautiful nature the Pacific Northwest has to offer.
It is a joy to now have this opportunity to bring music to your kiddos and as a result to your homes!